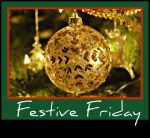 We're making a slightly different version....instead of using straws, we're using candy canes and we're using Christmas tree shaped marshmallows.
They're easy enough for young ones to do; the only problem you'll have is stopping them eating the chocolate dipped marshmallows before they get chance to set!
Get the children to push marshmallows onto the the end of each candy cane.
Now the children can dip the marshmallows into the chocolate. Let the excess chocolate drip off then either dip the chocolate covered marshmallows into the sugar strands or let the children sprinkle them over.
Put them on a tray lined with greaseproof paper and put them in the fridge to allow the chocolate to set.





These are lovely added to a home made gift of hot chocolate and mini marshmallows in a cellophane bag, presented in a nice Christmassy mug. (Click the link under the picture for the directions)
Or you could just keep them for yourself to stir your yummy hot chocolate with on Christmas Eve ;)